05.27.2020; 0415: 70º this morning. PJ received three calls last night: One from Granddaughter Rachael Turner in Flagstaff who is working full time in the N.A.U. finance department (everyone is wearing masks); the second from PJ's cousin Sam Slocum in the Chicago area wishing her a happy birthday; and the third from Granddaughter Bekah Turner working in the research lab of the Ann & Robert Lurie Children's Hospital of Chicago. Bekah has recently moved from DNA research to the coronavirus lab. Her skill is in research so this is a smooth transition.
1000: I drove Phyllis to her PT appointment at Body Central. While she was in the gym, I was watching preparations for the Space X launch. We came home and watched the countdown to twenty-minutes when they scrubbed the mission. We'll watch it on Saturday. Thank you for all of your encouraging compliments on the pictures. I'm glad you liked them.
Hollyhock in the early morning.
1800: We watched Becoming on Netflix. I've been putting it off since I have read her book. However, this video is after the book and covers Michelle Obama's tour selling the book. It is an honest portrayal of her life after they left the white house. Swombo and I thoroughly enjoyed it. Her message to young people is to become the best that you can. She constantly asks them, "What is your story? What will it be?" That is what I ask of the members of the memoir-writing groups. "What is your story?" I will not accept the excuse that "No one will care about my story. Therefore, I have nothing to write." If they have children or grandchildren, someone will read their story.
05.28.2020: 0500: Up and writing. 0700: We walked Udall this morning. We got our Vitamin D along with 1600 steps.
0800: Practiced shooting. My bowstring jumped the cam again. I was unable to compensate for my left-hand-tremor as I was pulling back. I'm going to remedy that.
1200: Stopped by Robinson Archery. It took Tom and an assistant about six minutes to re-string the bow. (It requires a machine to pull the cams apart.) Then, Tom showed me what I was doing incorrectly. I have been holding a death grip on the handle. To compensate for my tremor, I've been trying to stop any wavering instead of relaxing and letting the bow balance. I'll see my coach tomorrow and have him watch me. I don't want to teach myself a bad habit. Once the tremor starts, which isn't often, I need to let it finish and not fight it.
1600:PJ has been sorting three upright cupboards in the kitchen. (We have Alabama, and Atkins along with Battlefield Band in the Bose. She's dumping loads of collected plastic containers. Our recycle bin is full.
Evening: We started watching a series – Sweet Magnolias – Looks good. I'm particularly interested in how they tie one shot-story with the next.
05.29.2020: By 0700, the temperature was already 78º and we knew that Udall would be even hotter. We drove to the Mall, but it was closed. Next, we drove to Desert Sports. The restrooms have been completely remodeled. CLEAN, also. That's PJ at the end. I was 4 recumbents down. PJ wouldn't take the closer one to me because the overhead fan was too cold. We peddled for 10 minutes. Next time, we can do the elliptic and the recumbent. They've done an excellent job remodeling.
1030: I met with Larry, my archery coach to adjust how I gripped the bow AND released the arrow. I have been slipping into a bad habit with my left hand. I'm not holding on the target until after the arrow hits.
I'm going to have Swombo stand behind me and remind me. I shot a few practice ends at 15 yards. Then, I shot at 20 yards! I haven't shot at 20 yards since last November. My left hand is stiff from the shooting.
1200:I can see CLOUDS to the south! Cumulus-Nimbus building up. There's hope!
1540: Warnings of lightning, but still no rain.
And, just like that, the weather changes.
Mexican Bird of Paradice.
Part of PJ's birthday present was a subscription to Home Chef Oven Kits for the month of June. Our first box is Cotija and Jalapeno-Crusted Chicken with Cajun zucchini and corn.
This is dinner for two (which turns out to be for four with leftovers from the first meal!) So, the $16.00 meal becomes a $4.00 meal for each of us (counting the leftovers). I separated the spices because PJ thought it might be too hot for her. I thought it was perfect. Thanks to Joe and Julie for this gift.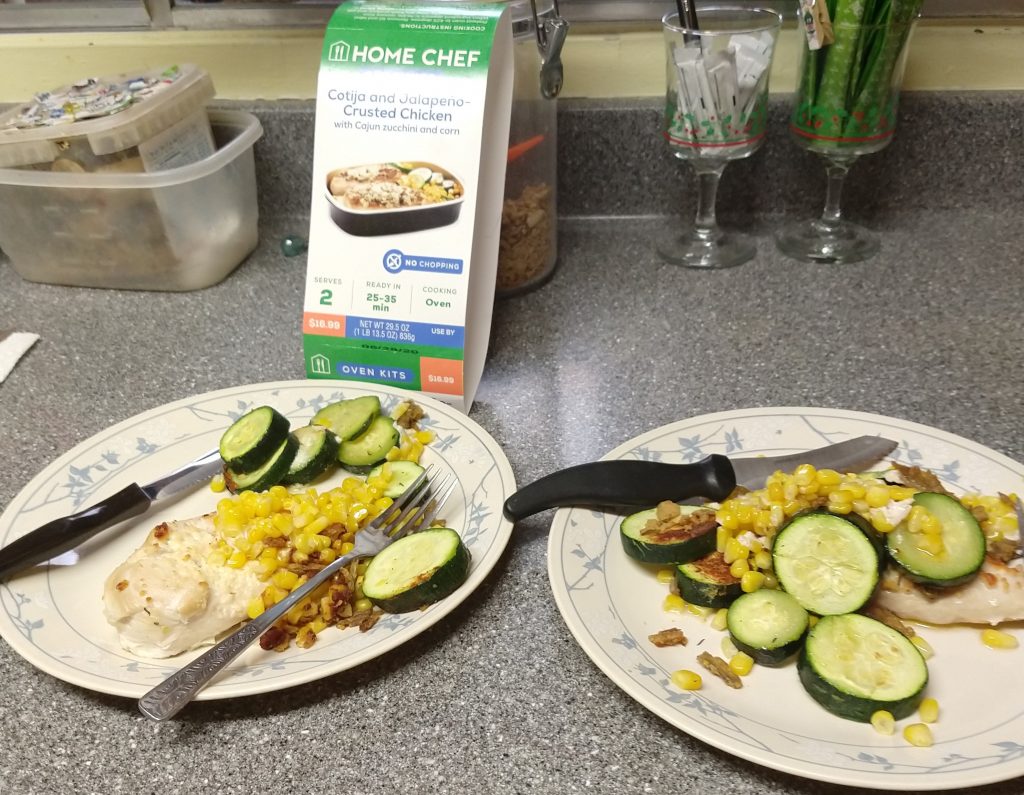 1800: We watched another episode of Sweet Magnolias. I'm intrigued by how the endings of each episode suggest that we move ahead of the next episode. They aren't cliff-hangers necessarily, but, if we aren't too sleepy, we will click on "just one more" episode. I did that with Harvey Stanbrough's Wes Crowly Series. I'll read one more book, and one more. Sorry to see them end. PJ and I have the same feeling about The Outlander Series. We know the main characters are getting older, so the books will eventually come to an end. Anne with an E was another exciting series. I think Sweet Magnolias will become a HEA program. How the author manages that will be interesting.
05.30,2020: 0800: I practiced shooting for a few ends. It was getting too hot for me (84º). I drove PJ to Desert Sports & Fitness. We did five minutes on the elliptic and ten minutes on the recumbents. PJ says, "It is good to be moving again! Not only that, but it's also cool inside!" (I agree.)
0945: Try as I could, I couldn't open Zoom for the RWA meeting this morning. Zoom's security methods leave something to be desired. After six attempts, I gave up and will watch the Space X Rocket shot. I didn't have any trouble pulling that up! We can remember the John Glenn shot. I think we witnessed all the space shots including a couple of disasters. I hope this adventure will continue to be nominal.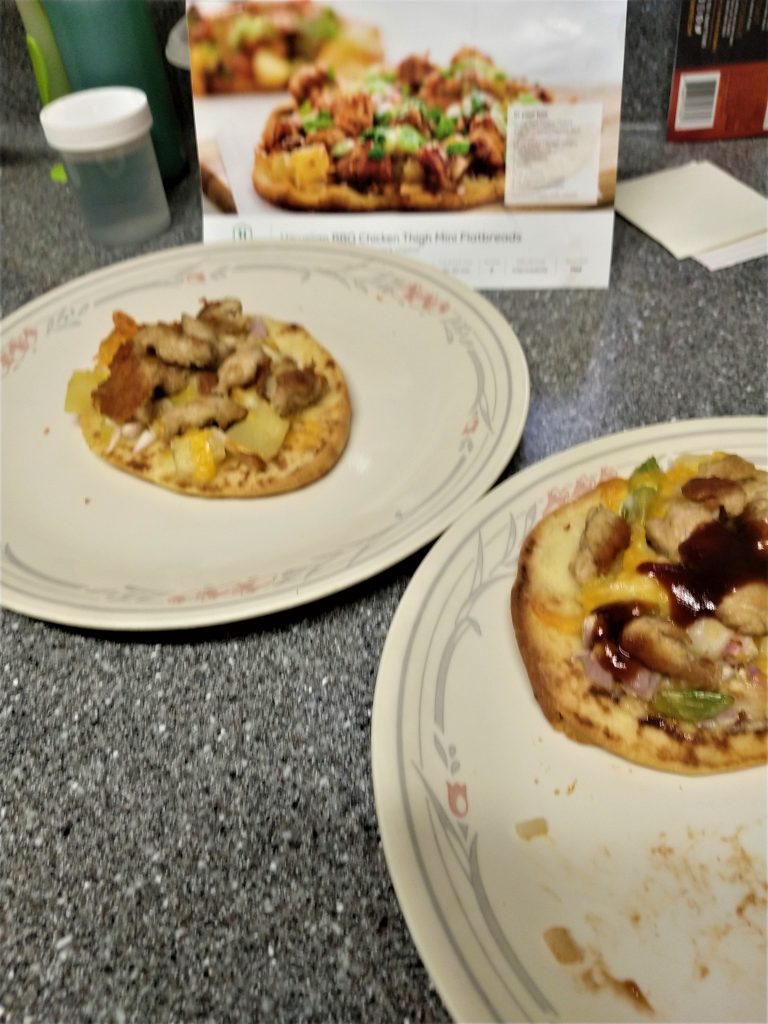 For dinner: Hawaiian BBQ Chicken Thigh Mini Flatbreads with pineapple and cheddar-jack cheese. Fortunately, PJ was there to supervise the oven operation while I cooked the chicken. The directions said it would take 30-40 minutes. I think it was 40 minutes on the button. PJ can't eat BBQ sauce because of the tomatoes (acid reflex). So I get to have extra on my side of the plate. Again, we had enough leftovers for her to have lunch. I'll have mine for dinner this evening.
05.31.2020:0500: 76º Zoom Talkback and Church worked.
Why couldn't that have worked Saturday with RWA? DAYYUmm!
I know you will remember that tomorrow is RABBIT DAY!
I pray for deep listening –
listening alone – listening together – listening to others –
listening to oneself – listening to the earth –
listening to the universe –
listening to the abundance that is –
awakening to and feeling sound and silence as all there is –
helping to create an atmosphere of opening for all to be heard,
with the understanding that listening is healing.
Deep listening in all its variations is infinite.
Deep listening is love.
– Pauline Oliveros