MAYTAG MOMENTS
(Living with Parkinson's) ©
by
Sam and Phyllis Turner
12.21 and on. 2020
Continuing
12.21.2020: Jupiter, Saturn, and the Great Conjunction plus three of Jupiter's moons.
(Taken in Italy.)
***
We finished watching the Somebody Feed Phil Series. Thanks for suggesting that program, Virginia and Larry. He wasn't just about food; he was communicating with people from different countries. This was a good way to show a friendly spirit to all that he met. We thoroughly enjoyed the series. (Netflix)
12.22.2020:
Remember when I mentioned that Joe came by in his truck and played Dave Brubeck's TAKE FIVE? I forgot to take a picture of his work of art. Joe and part of his family helped with the painting of the design. The speakers lifted me off the seat!
This truck floats so high that he needs a pilot's license to land it. Plus one might be inserting a cochlear implant when Brubeck finishes. This picture doesn't do justice to the SOUND!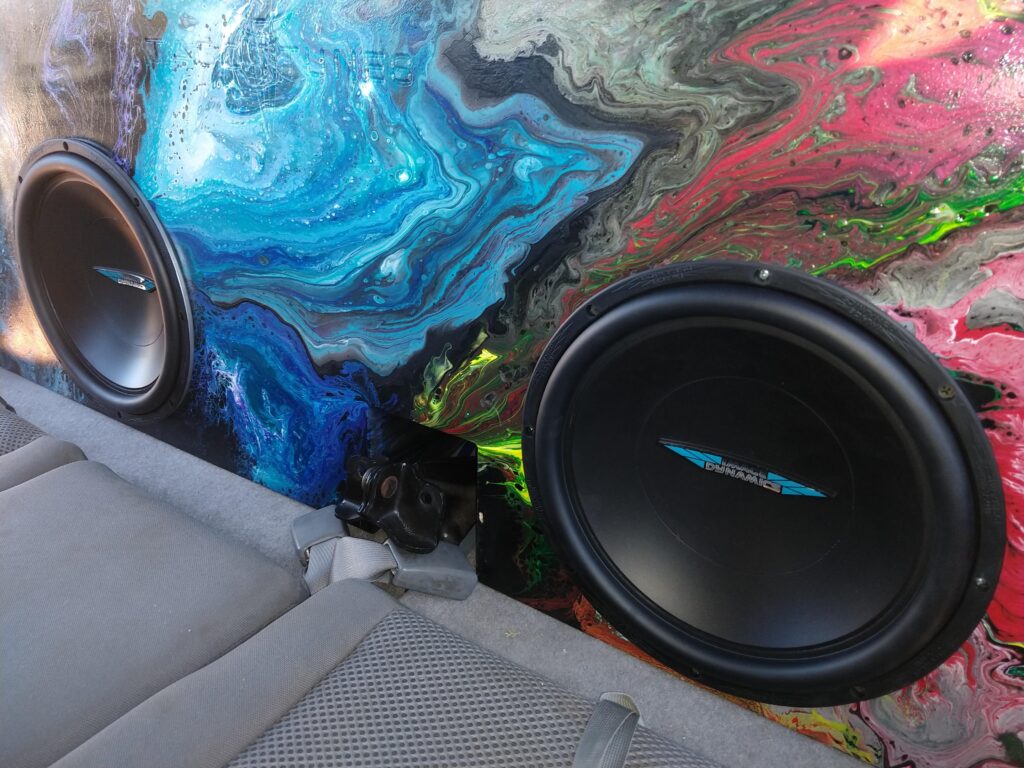 1300: Speaking of cochlear implants, I attended ALOHA this afternoon via Zoom. It's always good to see the members. We discussed an upgrade of the mask that allows the speaker's lips to be seen (read) for the HOH person. I ordered some for our doctors. Zoom has captions, now!
The rest of the afternoon has been spent wrapping presents. We watched the news and the first three episodes of Merlin. PJ doesn't care for scary movies. (She was traumatized as a child watching Lon Chaney in the Phantom of the Opera.) I'll view it in the morning when I'm riding the bike.
12.23.2020: 0630:
090o: Dropped some business checks off at the bank. Stopped by La Mesa and picked up our order of tamales and finished wrapping gifts.
1900: Visited the TCF regular Zoom meeting! Good to see Cindy. This was the first time since we "retired" in 2014.
2000:PJ received a text from Julie (in Scottsdale caregiving Chris's Cousin Ginny, who is waiting for a kidney transplant.) that says Ginny tested positive for Covid. Julie tested negative but has to self-quarantine (with Ginny) for ten days in Scottsdale. Ginny, part of Chris's family, has no other family member living closer than Chicago. Julie volunteered to stay with her.
2900: DAY ONE: Julie's Quarantine in Scottsdale caregiving for Ginny.
We will have a Zoom meeting on the 25th.
We will have another Christmas when Julie returns on January 3rd.
In the meantime, since Joe had contact with Julie last Sunday the 20th, and later had lunch with us, we will all get tested just to be sure.
DAY TWO: 12.24.2020: 0300: I did not sleep, mostly from worry. I got up and wrote starting from Day One, did some research on the computer, and tried to open the form for Covid Testing at Udall Park. I spent three hours trying to load the appointment form – no phone access – trying to get an appointment today. No luck.
1000: Joe rescued me and (virtually) took over my computer. Even then, it took another forty-five minutes before PJ and I were finally signed up for testing on Tuesday at 0920.
1230: Joe and Ethan stopped by for a few minutes to drop off presents from his family. We gave them ours. (Glad we had them all wrapped.)
1700: We had fried mushrooms with leaf lettuce, cucumbers, and beef, turkey, and ham slices for dinner. Zoom at St. Francis in the Foothills. Christmas Eve Celebration. Maybe a hundred (?) of us. We even waved to our friend Lucy in Hawaii! What fun.
1830: Merry Christmas Eve, Everyone!!!! Texts from Julie saying she is doing well and that Ginny's temperature is normal. We breathe easier.
1845:Clicked on YouTube accidentally and watched Bob Hope Christmas 1967 where he performed for our troops in Viet Nam. Twenty-two shows in fifteen days! Two of the shows were on aircraft carriers.
DAY THREE: 12.25.2020: 0500: Merry Christmas again. Question: When you were age fourteen, what book (or series) did you enjoy? Teaching my eighth graders in middle school, I got many of them reading the Dragonflight series by Ann McCaffery. When I was fourteen, I was reading Albert Payson Terhune's dog stories. Anyone else?
0740: 47º and overcast sky.
0900: Had a practice Zoom with Joe and Julie (She's still in Scottsdale in Quarantine) Everyone opened their presents.  All except Chris's family. Our presents for them are still here until January 03.  We got to see our three grandchildren. Bekah flies back to Chicago Sunday to continue at the Children's hospital. Rachael goes back to Flagstaff (NAU) after New Years'. Ethan will still be taking classes at home (La Cienaga High School). He and his sister are Juniors.
At Virginia's suggestion, PJ and I started the Madam Secretary series. WOW! Watched four episodes. Still Wow!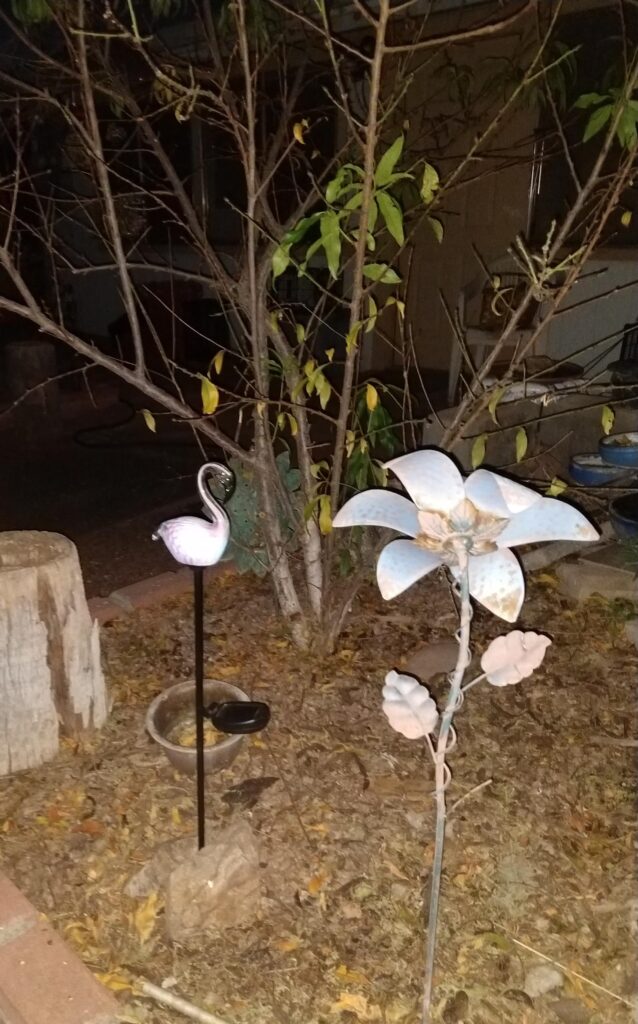 DAY FOUR: 12.26.2020: 0530: 0700: Swombo is up doing her stretching routine. 0900: We attend PD training at Tresha's. Again, I did not do well. Except for the bike I haven't done my stretching exercises.
A Flamingo from Joe's family is part of our Christmas gift. It goes well with his flower gift two years ago. Both are solar-powered.
My beautiful Phyllis with a U.of A. mask, Minnie Mouse to match her watch. Soft-cushion slippers round out her outfit.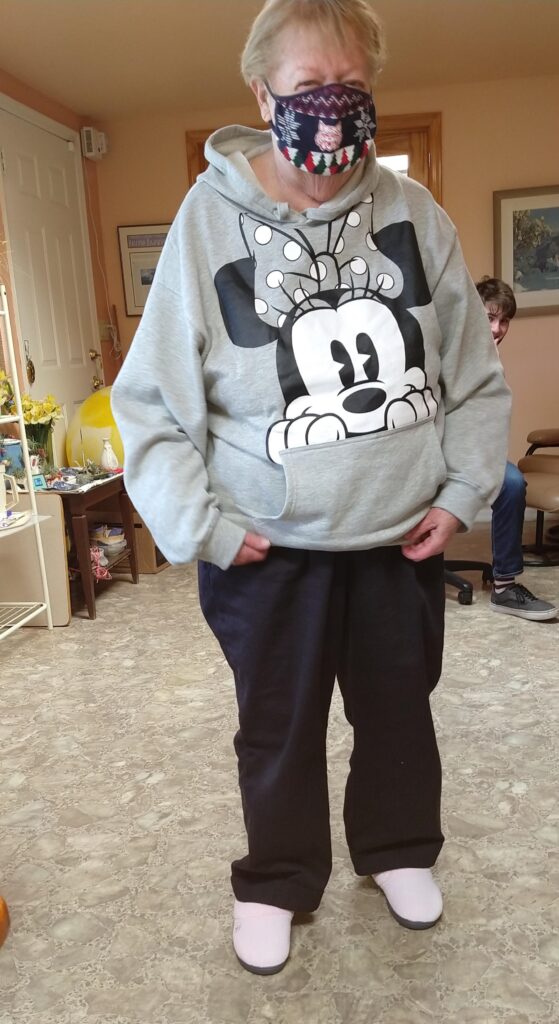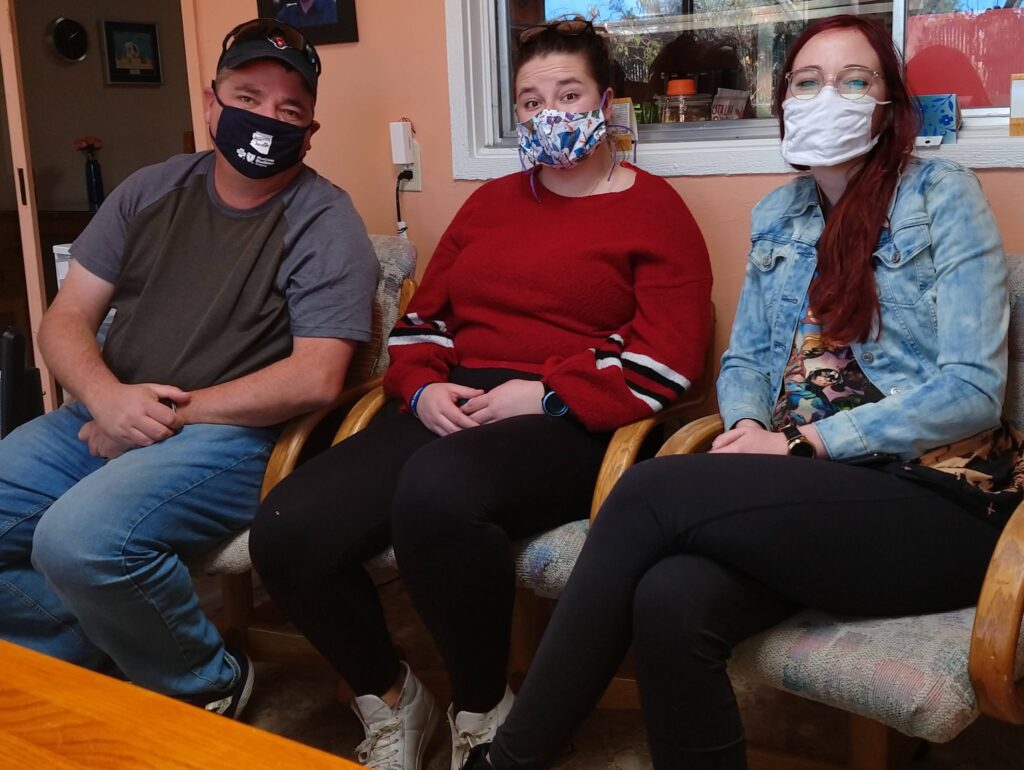 Joe, Rachael, Bekah in a quiet moment. How fortunate we are to be able to visit with them for a short time.
1900: Amazing! We skipped watching the news and clicked straight to Madam Secretary. We watched continually (I think it's called binge-watching?) until 2300! Too bad it wasn't New Year Eve. We could have used that as an excuse to stay up until 2400. Thanks to V. and L. for suggesting the idea.
Here's my routine: 0700: CBS Sunday Morning while riding my bike. 0600: all other mornings: Merlin while bike riding. At least one episode each day. We watched the Sunday service of St. Francis in the Foothills. I missed the Talk-Back! How could I do that? I realized it about two hours later.
We walked part of the Mall today for only 1356 steps. 99% of walkers were wearing masks. 
PEACE
I want to begin the new year in peace—
even with the pandemic,
even with the politics.
I want peace for the whole world
and I want it to begin with me.
I know if I create peace in my life
that can't help but create peace in the lives of others.
So I begin with "The Passing Parade"
a fantasy I created years ago
in which I look at all the people in my life
and I ask myself, "How do I feel about this person
or this group of people?"
If I am sad, I think of my blessings.
If I am hurt, I forgive.
If I am angry, I forgive.
If I am fearful, I make a plan and follow it.
If I am loving, I increase the love,
and absorb the love of others, for we all deserve love.

Copyright © 2020 Margaret Ann Adams