12.31.19 New Year's Eve: 0700:I Finished Daisy Jones & The Six. It reads like 1970-1980 history of a rock-and-roll band. In fact, I skimmed right over the front cover that said: a Novel. I didn't notice that. I thought, well, the 70s. I don't remember that group. I googled it, and I couldn't find it. I couldn't even find the hit records that they recorded. I finally read the back cover. Jill Santopolo's review said, "…I had to remind myself that it was fiction." Duh! It seemed like a real documentary. I gave it FIVE STARS *****.
01.01.2020! HAPPY NEW YEAR! Yes. We also said Rabbit. (can't be too careful.) Spent the day sorting papers and dumping Stuff. I worked on a short story for Quail Run Writers, which comes up January 7.
01.02.20: Up at 0600 for early breakfast before driving to the U of A Science park to pick up Ethan and Rachael. 0745: We met Jessa on the dot in the parking lot. The two siblings wanted to have breakfast at the Baja Café. We did just that. 1000: We were almost the only ones in the early-bird theatre to see CATS. The caption units worked perfectly. There was Dame Judy Dench in a CAT costume as Deuteronomy licking her crotch. A long way from Shakespeare, but she's an actress. She knows how to play the part. After the movie, we stopped in Culver's and had dessert. 1330: Home to rest and teach us how to use Alexa for inter-com use. I think we have it. Ethan shot some arrows with me. We managed to hit the targ
et. Joe helped me with my antenna. It works just fine. However, I can't get Pac-12. That means I still need DISH.
01.03.20: "Free" day. Well, almost I have to drop off an item at the bank. Once there, I developed eye trouble. Lucked out and got an appointment for Monday at 0800. I notified my class that I would be absent.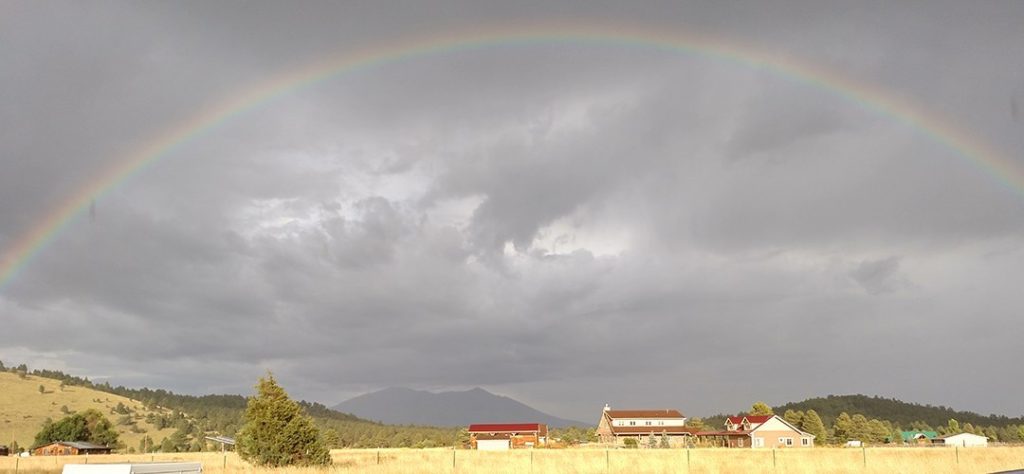 Remember last month when I mentioned the World Wide Candle Lighting sponsored by The Tucson Chapter of The Compassionate Friends? This was the way it was at Children's Memorial Park that evening.
Poems were read:
EMPTY PLACES
 I drove the old way yesterday.
 It'd been a while, you see.
 and there, without a warning,
 the pain washed over me.
 I drove the old way yesterday
 and sadness came on strong,
 taken back by so much feeling,
 since you've been gone so long.
 Places seem to lie in wait
 to summon up the tears,
 to say remember yesterday,
 those days when you were here.
 Places where you laughed and played
 are places where I cry.
 These places hold the memories
 that will live as long as I.
 ~ Genesse Gentry TCF Marin County, CA.  In Memory of Lori Gentry ~
"'Everyone must leave something
 behind when he dies', my grandfather
 said. A child or a book or a painting
 or a house or a wall built or a pair of
 shoes made. Or a garden planted.
 Something your hand touched some
 way so your soul has somewhere to
 go when you die, and when people
 look at that tree or that flower you
 planted, you're there."
 

                                           ~Ray Bradbury ~
 

Rob's garden boots are buried in the center garden.For PJ and me, the loss of our son, Robert, twenty-three years ago, is always present. We have lived through it. But, no one gets over it.
To find out more about The Compassionate Friends:
Tucson Chapter. P.O. Box 30733. Tucson, AZ, 85751-0733. (520) 721-8042
01.04.2020: And now, on with today. Here's the plan: 0745: We go to POW-WOW to pick up produce. Then, I take SWOMBO to breakfast at the BBC. By the time we finish breakfast, Bed Bath & Beyond will be open, and we can replace a toothbrush that has lost its ability to hold a charge. Later, we stayed up and watched the 75-47 win of Arizona over Arizona State. What a delightful way to end the day.
01.05.2020: We made it to church. Home for a nap. I cooked stir-fry with some of the produce from Pow-Wow. We watched The Golden Globe Awards.
01.06.2020: 0800: To the optometrist for dilation and a change in glasses. Home by 1100. Mr. Hawk visits for breakfast. No luck, and he moves on. We've worked all day (PJ shredding- Sam sorting). I'm taking her out to dinner.
01.07.2020: Quail Run Writers today. We'll pick up Sharon and meet at Pauletta's.
Quail Run was up to its usual standards. Seven members are sharing. Though certainly not required, many of us wrote about the New Year. BEV: Remembered the loss of two friends. She offered some basic guidelines for the next year. She reminded us that: God is Love; to Be Kind and Respectful; to Express Gratitude. She said, "A fresh beginning provides hope that we can achieve something more."
PAULETTA: Presented dreams of retirement and embracing the New Year.
SHARON: Many of you know her from Society of Southwest Authors days. She completed her Christmas Letter and shared it with us, including pictures of her family. She continues volunteering with Literacy Connects as a reading mentor. She even manages to get some pieces in the Chicken Soup series. Like Sam, she has Parkinson's Disease.
FLO: In Memoriam. Presented a series of delicate pieces about members of her family, many of whom are now deceased.
GUY: Introduced his story this way: "The following is a true story. The names have not been changed to give the heroes their due credit." We were taken on an adventure where some of his friends experienced a rock-throwing altercation under a bridge.
PHYLLIS: Presented a revision of how she almost shook hands with Princess Grace of Monaco. (She was one hand-shake away.)
SAM: The Antique ACE Fastener. Written from the POV of the fastener who describes its life from 1952 in a railroad station office to the present in Sam's office.
PJ and I always feel refreshed and renewed after our Quail Run meetings.
When we came home, PJ drove me to my 2:00 doctor's appointment.
We had leftovers for dinner, read our books, and I went to bed an hour earlier than usual and slept through until 0300.
01.08.2020: We went to our PT this morning. Then, PJ drove to bridge all by herself. She was able to click the seatbelt in her Buick. I stayed home and worked on finances. It is now 1325, and I'm tired. She arrived at 1430. We went immediately to the Big "A" store to pick up my jacket that she gave me for Christmas. It had to be exchanged. Next, to Wild Birds Unlimited for suet cylinders.
PD: I noticed a sharp increase in tremors (both hands) yesterday and today. And Dragon is on the fritz. I'll have to reboot it tomorrow. And the good news is: Our exercise club is getting a new Tai-Chi instructor! He's going to teach two classes a week – Tuesdays and Thursdays. We can go to every other Tuesday class and fill in with the Thursday class. He specializes in balance training for PD.
I received a short story from HS. I'll read it this evening.
1600–1630: Shot 30 arrows. Shooting slightly left of center. (in the 9 and 8 rings) I'm gradually correcting that.Tomorrow, I'll score. I'll also go to the Archery club and practice their indoor target. I have a doctor's appointment Friday morning. My first night of the Archery League will be that evening.
"Many people hear voices when no one is there. Some of them are called "mad" and are shut up in rooms where they stare at the walls all day. Others are called "writers," and they do pretty much the same thing." Ray Bradbury
 

Once you hit a certain
 age, you become
 permanently unimpressed
 by a lot of stuff.
 -unknown-