June 17 – 22
06.17.2020: Thank you! Thank you for the many thoughtful and supportive responses! So many of you sparked a memory:
"Oh, yes. Remember when…"
Oh, my goodness, this is my favorite email I've gotten in many moons.
Happy anniversary to two of my favorite people! Your story is SO inspirational.
Love,
Nancy H.
Thanks, Nancy. From teaching fourth graders at Drachman, and lunch at MiNidito, to The Green Flash Restaurant and pier walking near San Diego, to getting lost showing you the wine country of Southern Arizona, we've had some great times. SET
Beautiful memories! Well, not being separated for six months, right off the bat, but overall, really nice. Congratulations to you both!
We see the pyrrhuloxia (sp??) around here, some, as well. Much more often, we see the (phon.) feenapepla. I just know it isn't spelled that way, but maybe it ought to be! We also see the red cardinal with a mate in one of our palo verde trees, and a vermillion flycatcher is at home in the big palo verde in our front (former) cactus garden. Not a lot of cactus left in it.
Again, congratulations on your 53rd wedding anniversary! I did count correctly, didn't I?
From Vicki S.
Off by ten years. It's 63 years, now. But who's counting? Each year is a surprise. Thanks for the bird update. You're closer to the great Pantano Wash, I believe? The Vermillion Flycatcher would be around moisture. It would do better at Udall Park after the sprinklers turn off. That's the only place we see them. We have had a rare visit from the Phainopepla but the Pyrrhuloxia has made our center garden and the Jade plant its official territory. SET
Sam and PJ – what a beautiful story. Thanks SO much for sharing! Congrats, Sam, on the typing!
And of course congrats on Baby Olive.
Sue T.
Thanks, Sue. We are sure that the Universe shifted ever so slightly with her birth. SET
From Len Hill:
One of the very best of all the Maytag Moments journals. Very special. Thank you.
Thanks, Len. You sent us a telegram from Salt Lake City with regrets that you couldn't be there. You must have been working for the newspaper? SET
06.17.2020: 05oo: doing laundry. 0600: Archery. My peep sight snapped (broke). I'll take it into the shop Thursday morning. 1000: Drove PJ to Body Central for PT. Afterword, we stopped by Layne's Watch repair to fix my watch band. No charge!
The Manager said, "I'll get you next time."
After lunch, PJ met with a client. Then we read our books. I'm reading one on You're Not Listening, and another on The Business of Writing. I haven't touched my CIP today.
1400: I have some free time. Think I'll work on the story. 1600: I added twenty pages to my CIP.
1830:We had baked salmon for dinner!
We watched the conclusion of Songland that was aired on Monday. Usher was the star. Looking for the next season which may start in August on Wednesdays instead of Monday. The schedule is confusing.
06.18.2020: 0445: Up and writing. 0800:after breakfast, we drive to St. Francis to sign a petition for Red for Ed.
Bighorn Fire continues.

Over 31,000 acres and only 40% contained.
1030: I took the bow over and had my peep sight repaired. It took five minutes.
PJ receives a call from Diane G. complementing her on the wedding story.
THANK YOU, Diane. The picture reflects PJ's gratitude for your call.
"What a day this has been. What a rare mood I'm in. Why it's almost like being in love!" ~Lerner and Lowe
That's the way we feel today.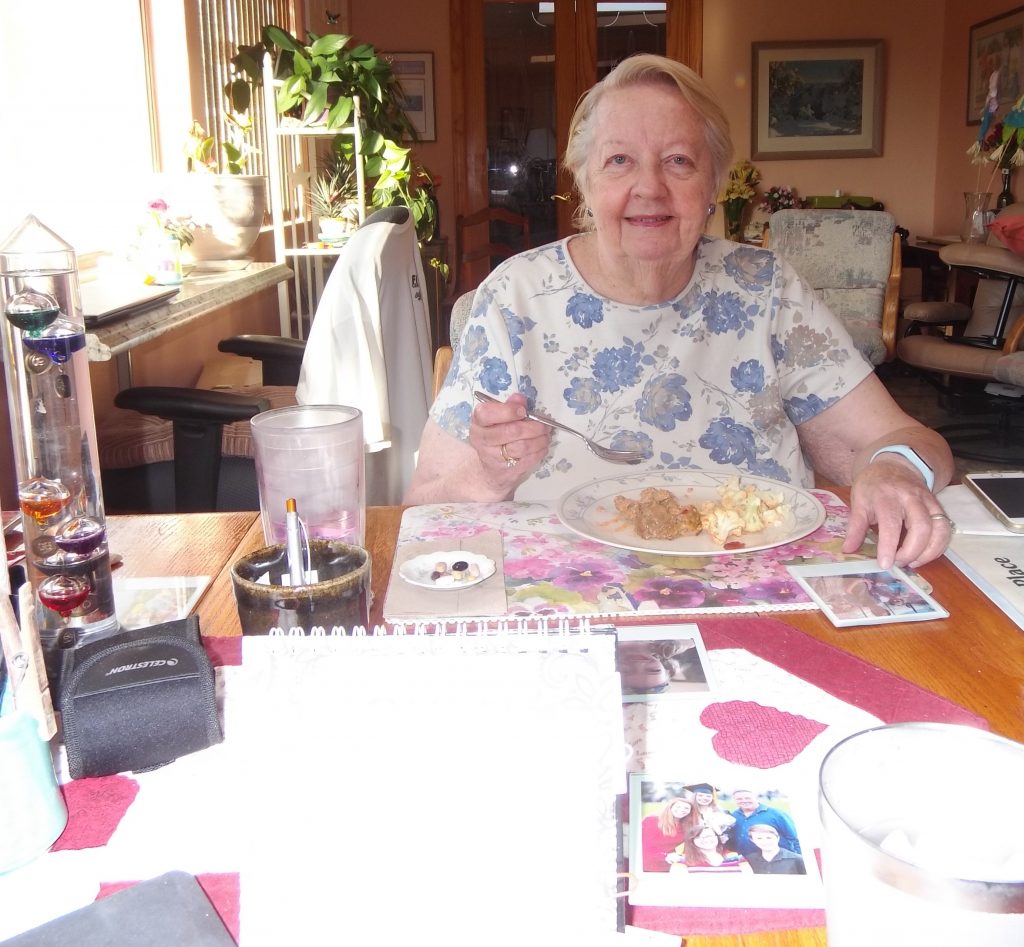 PJ has her meatloaf dinner. At least I took the shot while there was still food on the plate.
06.19.2020: And still it burns! 37,087 acres. 40% contained. The temperature should hit 101º today.
We drove to Ft. Lowell and Campbell (8.8 miles one-way) to get my (ortho) retainers. The bottom unit wouldn't fit, and I have to go back Monday afternoon. It has been two months without the bite block and my teeth have already begun moving out of line.
Parkinson's and balance. Exercise: I haven't been shooting archery for the last three days because of a wrist/arm pain. We haven't been walking these past few days because of the early morning heat. (We were hoping to walk in Park Place Mall thinking they would be open at seven in the morning. So far, they don't open until ten.) That breaks our routine. I've been using the stationary bike in the early morning before PJ gets up. Originally, I watched Channel 9 for news as I peddled. I got so tired of the advertisements, that I just peddle for six minutes. Next, I go out and fill the birdbath. If there's any recycling or garbage that needs dumping (that I forgot to do the night before), I take that out. If the dishwasher needs to be emptied, I do that. Stacking the dishes and putting them in the cupboard is a good exercise for my hands and arms. It may not seem like much but by the time I've opened the blinds and done this kind of moving around, I feel better. I will start QiGong and TaiChi again now that I can use my laptop as a guide and I can do it inside.
PJ is religious about doing her exercise in the mornings and evenings. Some days her back doesn't give her problems; other days, she has difficulty standing at the sink cutting vegetables for dinner.
Parkinson's ugly head appears again! Our routine is almost the same every day. This evening, I found that I had difficulty turning around. I didn't feel dizzy. I had to hold on to the dresser as I was putting my dorky away. I've not had this type of feeling before.
We watched the conclusion of a Netflix documentary on the life of Clive Davis, The Soundtrack of My Life. This was an accidental discovery by us a couple of nights ago. You may not have heard of him. You have heard of Bruce Springsteen or Billy Joel, Alicia Keys, or Whitney Houston, maybe? Then the documentary on Clive Davis is a must-see for you. Look it up on Netflix.
06.20.2020: First day of Summer? I wouldn't have guessed it. I think we have been having Summer since April 15th!. On the bike at 0530. Cool out at 76º but I'll wait another day to shoot. My arm feels much better. Another day of rest should help.
1440: Bighorn Fire now 42,000 acres w/600 personnel fighting, into Ventana Canyon. Threatening Summerhaven, still. All residents are on evacuation notice.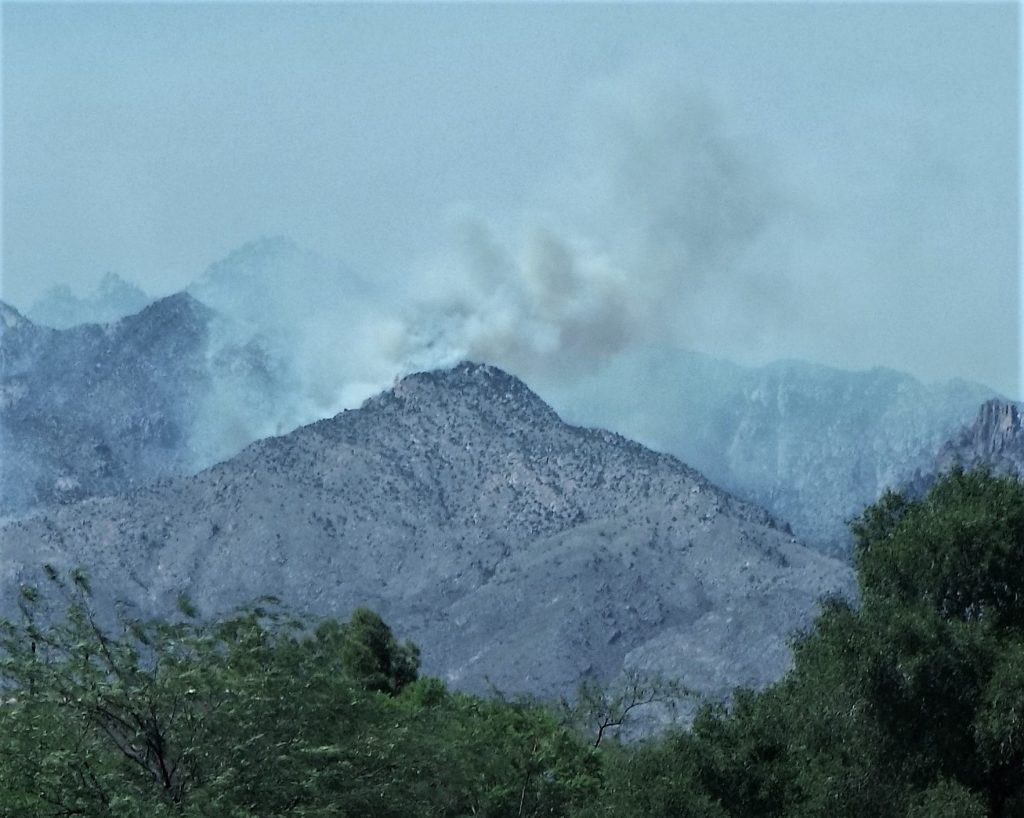 Earlier today, I did some sprint writing (Like a 6-minute writing only 10-minutes.) with a Zoom group of five (total) members. How exciting to be pushing myself again. These people were from all over the country.
Our daughter (Julie) brought groceries from Costco over this afternoon. Salmon Patties were part of the supplies. PJ cut the squash, microed the rice and I cooked two patties on our George Forman broiler. We timed it and in 15 minutes we had dinner. We watched ABC News and PBS and spent the evening reading. I'm still reading You're Not Listening, What You're Missing and Why It Matters – Kate Murphy
06.21.2020: 0530: Started the laundry. Trying something that may take the strain off my arm, I wore a wrist brace. Shot five Ends. 10,20,30,30,20 and popped the bowstring again! I pulled the string but forgot to nock any arrow. Where is my mind? That cooks it! I either have to shoot at the club and learn how to use the re-stringing machine or take up chess! I was holding the bow correctly but one does not "shoot" without an arrow. This one did! I'll get it fixed Monday. "DAYYyyummm!"
Meanwhile, back at the ranch. A mother quail and her five babies came out of the shade for a few seconds. Al (of Dexter Dog fame) wonders if the quail babies have some dinosaur DNA in them. Notice the similarity to the prehistoric body shape of the Schleich Carnotaurus Dinosaur.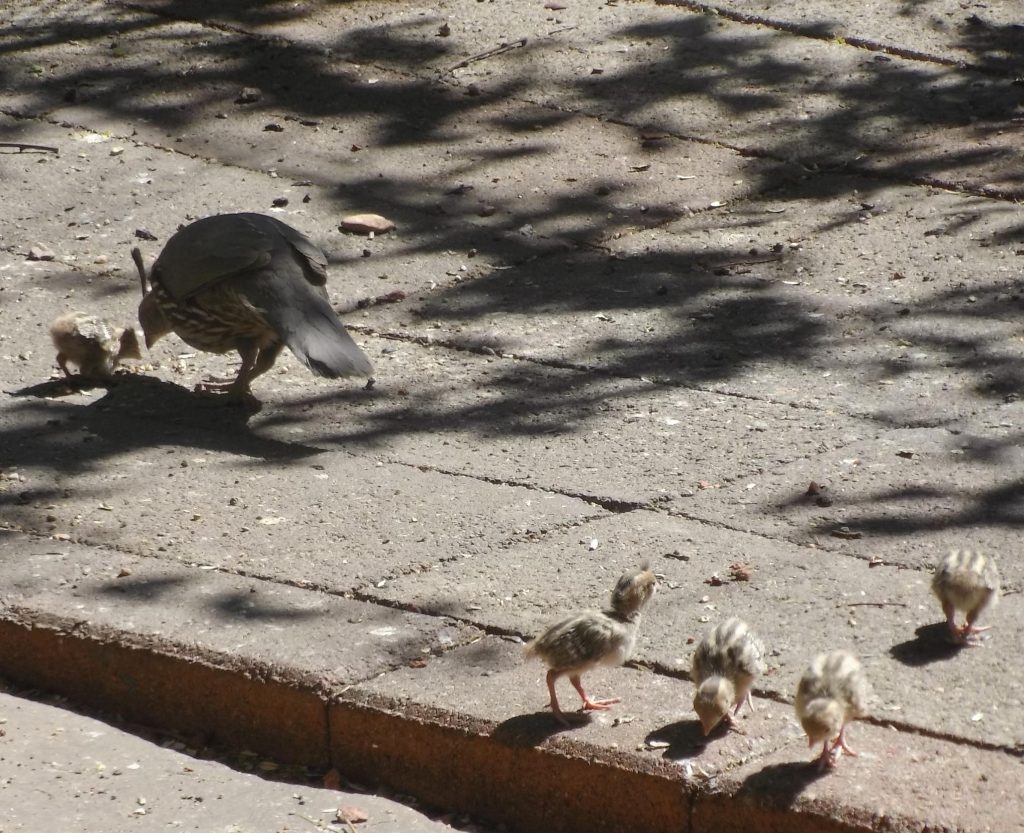 Look it up.
Not only the quail but our friend the pyrrhuloxia almost held still for this shot.
AND TODAY is FATHER'S DAY! We honor all the fathers this day and for the rest of the month. I'm thinking of four fathers that are especially close to us.
The first is Harold Slocum, Phyllis's father who, shortly after we put the down payment on our house, advised me to make 13 payments each year which means we paid off the house much faster.
Then the summer that he and Olive lived in a trailer parked in our backyard for three months and supervised the addition of two rooms and a loft that at the time, I thought I would never be able to afford.
He said "Sam, you have a growing family. We'll enclose the carport and make an office for Phyllis and the bedroom for guests along with a powder room, and a storage loft above, since your house has no attic."
Harold, who lived for one hundred two years and who on his deathbed still remembered the mathematical formula for the circumference of a sphere!
There was my father Samuel E Turner, Sr. Shortly after he and my mother, Eloise became engaged, she was struck with typhoid fever and became paralyzed from the neck down for 18 months.
While he was visiting her in the hospital she looked down at her ring finger and said, "Sam, you don't have to go through with this."
"Eloise, I will marry you even if I have to carry you to the altar."
We were a family of three. My father never yelled at my mother or me.
Through the 1940s we spent many evenings listening to Fibber McGee and Molly, Jack Benny, or Bob Hope. If it wasn't the radio, we read books to each other, my mother with one book, my father with another, and I with the third. Going out meant a four-mile drive along the West Rim of Grand Canyon to Hopi Point where we would listen to the quiet of the Canyon as the shadows lengthened through the inner gorge. He pointed to the stars and taught me the location of the constellations.
Chris Shulick has a quiet, quick sense of humor which he has passed on to Sabrina and Zach. He inspires exceptional work ethic and has taught them strength in hard times. He loves to cook and has taught them to appreciate good food. He always wants to do what's best for his children. There is a sense of peace in his house. Even Raven (the dog) settles down after she's finished wagging her tail in greeting.
There is our son, Joseph. We are fortunate that his family lives only 25 miles away from us in Corona de Tucson. Joe is the father of three children. He and Jessa are loving parents who encourage their children to "Walk the Line" as Johnny Cash would say. Joe and Jessa are actively involved in Ethan's life, now that his two daughters are away. (Bekah is a microbiologist in a children's hospital in Chicago, working on Covid-19 and Rachael is beginning her junior year at Northern Arizona University.) This leaves Joe, Jessa, and Ethan with time to go fishing or support Boy Scout activities and marching band presentations through high school or explore the world of plants and animals. We are proud of Father Joe, Jessa, and Ethan.
Below: The view from the other side of the Catalina Mts. from Oracle. Arizona Daily Star
Below was taken by Ana Felix looking north. Thank you, Ana. The Catalinas are about 15 miles from us. Ana lives a mile north of us.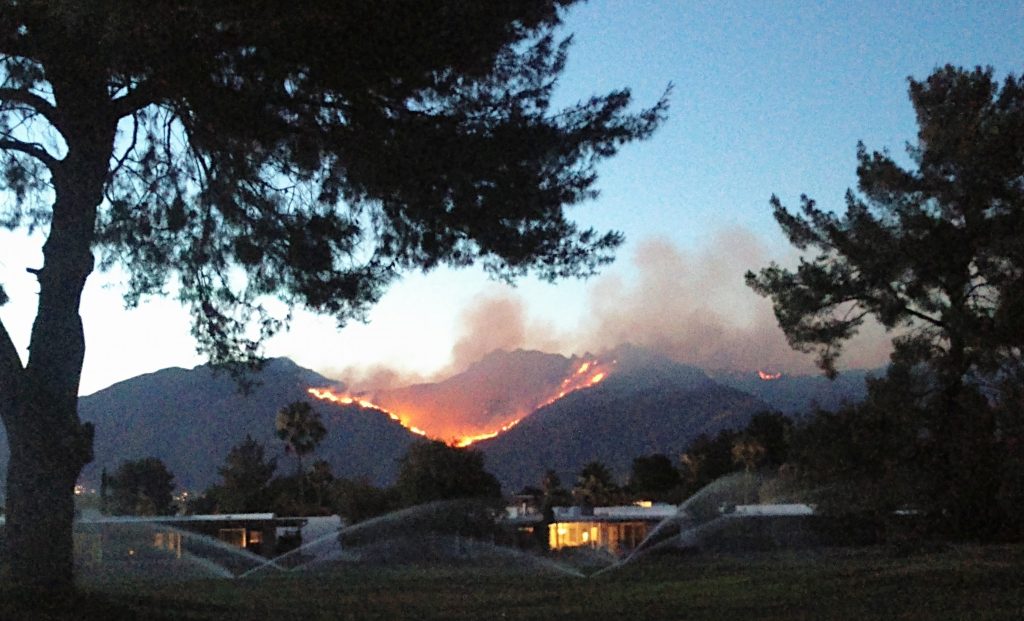 Again, thanks for all of your responses. Stay healthy, keep sheltered wear your mask remembering that it may save someone's life – even yours!
We pray for the power to be gentle;
the strength to be forgiving;
the patience to be understanding;
and the endurance to accept the consequences 
to holding to what we believe to be right.
May we put our trust in the power of good
to overcome evil,
and the power of love
to overcome hatred.
We pray for the vision to see
and the faith to believe
in a world emancipated from violence,
a new world where fear
shall no longer lead men to commit injustice,
nor selfishness cause them to bring suffering to others.
Help us to devote our lives and thoughts and energy
to the task of making peace,
praying always for the inspiration
and the power to fulfill the destiny
for which we were created.

- Adapted prayer from

Week of Prayer for World Peace, 1978